S-3 High Power Pulse Generator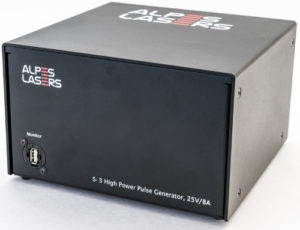 The S-3 High Power Pulse Generator is designed to drive devices requiring short or long pulses of high current with a non-linear response, including optical devices such as high power quantum cascade lasers, infrared laser diodes, LEDs or electronic devices such as Gunn diodes or high speeds transistors and rectifiers.
The S-3 is a good replacement for the obsolete Keysight/Agilent 8114A or the AV-107 from Avtech and provides additional features. The S-3 offers many programmable options and can be programmed from a computer through its USB port but once this done, if you plan to use the device continuously, you can just have it start at turn on and do not need any computer command to turn it on for full stand-alone operation.
Drivers for the S-3 for Mac OS X, Linux or Windows computers are available.
If the software requires to upgrade the firmware, you can use the firmware upgrader for Mac OS X, Windows or for Linux to upgrade to the latest version.
The device can operate as a slave, reproducing a control pulse or its internal clock can be used to produce pulses or trains of pulses in most relevant configuration.
The device contains an external enable/disable TTL control that allows full operation in Quasi-CW mode of a QCL, Laser Diode or any load.
The device contains an internal DC bias Tee allowing to add a DC dither in between the pulses to create a DC additional dissipation. This is controlled independently from the pulse current. This is particularly useful for pulsed QCLs to adjust wavelength without changing pulse current or heat sink temperature.
If you wish to control the driver through direct commands, you can find the API 
here
. You can use the API with no additional fee; optional Service and Support agreements are available.